Freestanding Aerial Rigs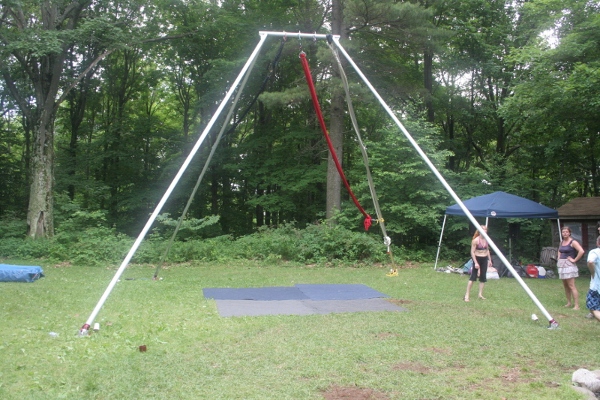 Easy setup and breakdown; under 15 minutes setup and 10 minutes breakdown with an experienced crew
Breaks down into easily transported parts; largest pieces 6'9"
total weight ~240 lbs
Capable of supporting 2-person aerial acts involving dynamic choreograpy, swinging, and drops on aerial fabric, lyra, trapeze, or other apparatus
No external guy wires
Internal leg tensioning. No outside cables.
No staking or ground attachment required for most ground surfaces; rig is stable using ground friction alone
All structural components 6061-T651 aluminum and 304 stainless steel
Built to order, customizations (height, topbar spacing, topbar length, mount points, etc) can likely be accomodated.
Some more images:
Fully assembled.
Base Pad Photo 1
Base Pad Photo 2
Dissassembled and on the ground
Another taken-apart view
Close-up of Top Bar
Top Bar End Construction detail
Top Bar Middle Construction detail
Send email to "equipment <at> flyingsquirrelconsortium.com" for pricing, leadtime information, customization requests, etc.